Sunday 21 June 2009
Tune of the Day: The Swan
from Camille Saint-Saëns's "The Carnival of the Animals"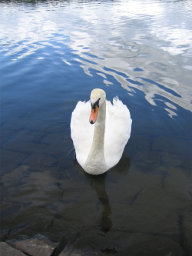 "Le Cygne", or "The Swan", is the thirteenth movement of The Carnival of the Animals, an orchestral suite by Camille Saint-Saëns. The piece originally features a solo cello in tenor clef and two accompaniment pianos, in 6/4 time, with a key signature of G major. It makes large use of legato and slurring: the music should flow like a swan gliding through the water. Moreover, this piece is often played using much vibrato.
This is the only movement from The Carnival of the Animals that the composer would allow to be played in public during his lifetime as he thought the remaining movements were too frivolous and would damage his reputation as a serious composer.
"Le Cygne" is often known for the ballet The Dying Swan, performed by Anna Pavlova, which was choreographed to its music about twenty years later, in 1905.