Friday 25 September 2009
Tune of the Day: O Canada
National anthem of Canada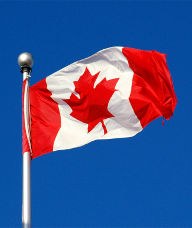 "O Canada" was originally commissioned by the Lieutenant Governor of Quebec for the 1880 St. Jean-Baptiste Day ceremony. Quebecois concert pianist Calixa Lavallée wrote the music, which was a setting of a patriotic poem composed by the poet and judge Sir Adolphe-Basile Routhier. The text was originally only in French, before it was translated to English in 1906.
"O Canada" was not officially Canada's national anthem until 1980, when it was signed into law on July 1 as part of that year's Dominion Day celebrations. The Canadian government bought the rights to the lyrics and music for only one dollar.
Many have noted that the opening theme of the song bears a great resemblance to the "Marsch der Priester" ("March of the Priests") from The Magic Flute, composed in 1791 by Wolfgang Amadeus Mozart. Some say that Mozart's tune inspired Lavallée to compose his melody.