Sunday 17 May 2009
Tune of the Day: Panis Angelicus
by César Franck, from "Messe à trois voix"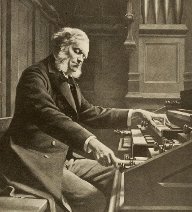 César Franck, a Belgian composer, organist and music teacher who lived in France, was one of the great figures in Romantic music in the second half of the 19th century. One of his best known works is the motet setting "Panis Angelicus", which was originally written for tenor solo with organ and string accompaniment; later arranging it for tenor, chorus, and orchestra, he incorporated it into his Messe solennelle Opus 12.
"Panis angelicus" (Latin for 'bread of angels') is the penultimate strophe of the hymn Sacris solemniis written by Saint Thomas Aquinas for the Feast of Corpus Christi.
We highly recommend you to listen to the MP3 files for this piece: the organ accompaniment is amazing!