Wednesday 8 September 2021
Tune of the Day: Ballet of the Unhatched Chicks
from "Pictures at an Exhibition", transcribed for solo flute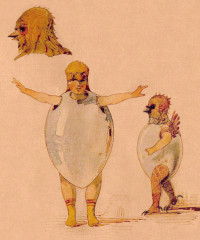 Today we present the fifth movement of Modest Mussorgsky's famous suite for piano Pictures at an Exhibition, which has also become known through various orchestrations and arrangements, with Ravel's arrangement being by far the most recorded and performed.
This piece was inspired by a sketch (painted by Viktor Hartmann) of a costume for a picturesque scene in Petipa and Gerber's 1870 ballet Trilby, which portrayed dancers as canary chicks emerging from the shell.
Mussorgsky created a rapid, busy and aptly dissonant piano work, which perfectly embodies all the youthful energy of enthusiastic chicks yearning to be free.
Thanks to Elan for suggesting this piece!