Friday 23 October 2009
Tune of the Day: Molly Malone
aka "Cockles and Mussels", or "In Dublin's Fair City"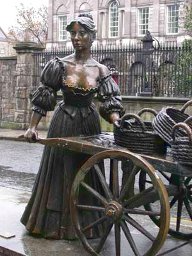 As well as being known and sung internationally, the popular song "Cockles and Mussels" has become a sort of unofficial anthem of Dublin city. Molly is even commemorated in a statue at the top of Grafton Street, erected to celebrate the city's first millennium in 1987.
The song tells the tale of a beautiful fishmonger who plied her trade on the streets of Dublin, but who died young, of a fever. Recently a legend has grown up that there was a historical Molly, who lived in the 17th century. However, there is no evidence that the song is based on a real woman, of the 17th century or of any other time. The name "Molly" originated as a familiar version of the names Mary and Margaret. While many such "Molly" Malones were born in Dublin over the centuries, no evidence connects any of them to the events in the song. Nevertheless, in 1988 the Dublin Millennium Commission endorsed claims concerning a Molly Malone who died on 13 June 1699, and proclaimed 13 June to be "Molly Malone day".
In fact the song is not recorded earlier than 1883, when it was published as a work written and composed by James Yorkston, of Edinburgh. However, as the song became naturalised in Ireland the attribution to Yorkston was generally omitted in published versions, encouraging a general assumption that it was an ancient folk song.
The song was featured in Stanley Kubrick's film A Clockwork Orange, sung by an old drunk.