Thursday 10 September 2009
Tune of the Day: Green Hill Zone
from the historic video game "Sonic the Hedgehog"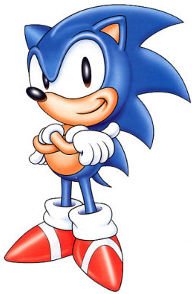 Sonic the Hedgehog was the video game that started off the career of Sonic the Hedgehog and Sonic Team. It was the first game to really propel the Genesis into mass popularity in North America, to the point that the Sega console outsold the Super Nintendo nearly 2 to 1 during the 1991 holiday season. This success eventually led to Sega overtaking Nintendo with control of 55% of the 16-bit console market, making it the first time Nintendo was not the console leader since 1985.
Green Hill Zone is the first zone in Sonic the Hedgehog. It is a picturesque paradise with green forests, beautiful blue lakes, and brown checkered soil.
The game has been praised for its dynamic music, composed by Masato Nakamura, a member of the popular J-Pop band, Dreams Come True. The music used 8-bit stereo sound, and was very rich and detailed. The music for Green Hill Zone in particular is a very well recognized tune, by many fans of the series and by other gamers. Many remixes of this track can be found online.