Tuesday 25 August 2009
Tune of the Day: Chopsticks
Flute duet arrangement of "The Celebrated Chop Waltz"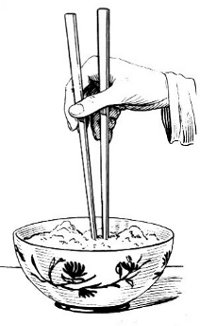 This simple, extremely well-known waltz for piano was written in 1877 by Euphemia Allen, a 16-year-old British girl, who published the tune under the pseudonym of Arthur de Lulli. As far as we know, she never wrote anything else.
On page 3 of the original edition for piano duet were these instructions: "This part [primo part of the duet] must be played with both hands turned sideways, the little fingers lowest, so that the movements of the hands imitate the chopping from which this waltz gets its name."
Some people think the name of the waltz comes from the Chinese eating utensil, because the piece is sometimes played with just the forefingers and this looks like someone spearing a morsel of food with chopsticks.
In the UK however, although this piece of music is well-known, it is not usually referred to as "Chopsticks". The piece of music known as "Chopsticks" in the UK is actually a different piano piece, elsewhere known as "Der Flohwalzer".