Saturday 25 July 2009
Tune of the Day: Waltzing Matilda
Traditional Australian folk song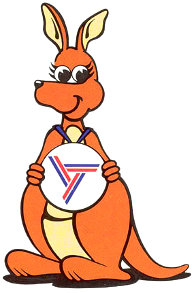 "Waltzing Matilda" is Australia's most widely known folk song, and has been referred to as "the unofficial national anthem of Australia". The title is Australian slang for travelling by foot with one's goods in a "Matilda" (bag) slung over one's back.
The song narrates the story of an itinerant worker making a drink of tea at a bush camp and stealing a sheep to eat. When the sheep's owner arrives with three police officers to arrest the worker for the theft (a crime punishable by hanging), the worker drowns himself in a small watering hole and goes on to haunt the site.
The song has never been the officially recognized national anthem in Australia. Unofficially, however, it is often used in similar circumstances. The song was one of four included in a national plebiscite to choose Australia's national song held in 1977 to determine which song was preferred as Australia's national anthem. "Waltzing Matilda" received 28% of the votes, compared with 43% for "Advance Australia Fair".
The song has also gained popularity as a sporting anthem for the Australia national rugby union team, as a response to the New Zealand All Blacks haka.