Sunday 31 May 2009
Tune of the Day: Can-can
Jacques Offenbach's "Galop infernal" from "Orpheus in the Underworld"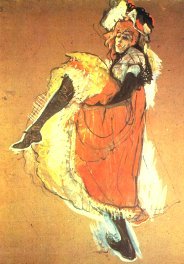 Offenbach's operetta Orpheus in the Underworld (Orphée aux enfers) is an irreverent parody and scathing satire on Gluck's Orfeo ed Euridice, culminating in this well-known "galop infernal" which has often been copied and has widely been used as the background music for the can-can dance.
The can-can is regarded today primarily as a physically demanding music hall dance, performed by a chorus line of female dancers who wear costumes with long skirts, petticoats, and black stockings, that hearkens back to the fashions of the 1890s. The main features of the dance are the lifting up and manipulation of the skirts, with high kicking and suggestive body movements.
As you will notice, the main theme is first presented in G major, and then reiterated in D major.