Wednesday 10 March 2010
Tune of the Day: Kimigayo
National anthem of Japan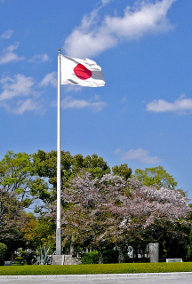 With a length of 11 measures, "Kimigayo" (which roughly means "Imperial Reign" in English) is one of the world's shortest national anthems in current use.
The quest for a Japanese national anthem began in 1869, when John William Fenton, a British military band instructor who was then working in Yokohama, learned that Japan lacked a national anthem and told the members of Japan's military band about the British national anthem "God Save the King". Fenton emphasized the necessity of a national anthem and proposed that he would compose the music if someone would provide the words. Fenton's melody was, however, completely different from the one known today. It was performed during an army parade in 1870, but it was later considered to be lacking in solemnity, and it was agreed that a revision was needed.
In 1880 four persons were thus named to a committee to revise the music. Among them was Hiromori Hayashi, who produced a melody that was finally selected because of its use of the traditional scale of gagaku, a type of Japanese music that had been performed at the Imperial court for several centuries. Sources still conflict over who composed the music. Some believe that the new melody was actually composed by Yoshiisa Oku and by Hayashi's son Akimori.
Although Kimigayo has since been Japan's de facto national anthem, it was only legally recognized in 1999.