Thursday 26 March 2009
Tune of the Day: Mary Had a Little Lamb
by Lowell Mason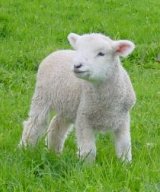 We all know this 19th-century nursery rhyme. And since you already know how "Mary Had a Little Lamb" should sound, it will be easy to identify any mistake you might make as you sight-read.
The nursery rhyme was actually set by Lowell Mason to a melody which is said to have been written by Mozart. Mason, a leading figure in American church music, is remembered as the composer of over 1600 hymns.
Although the melody is very simple, please remember: you should never dismiss interpretation. This tune should sound completely innocent and pure.