Sunday 31 March 2019
Site update: Ten Years of flutetunes.com
Happy birthday, flutetunes.com!
Ten years, 3652 days, and just as many Tunes of the Day! We almost cannot believe that we've reached this amazing milestone!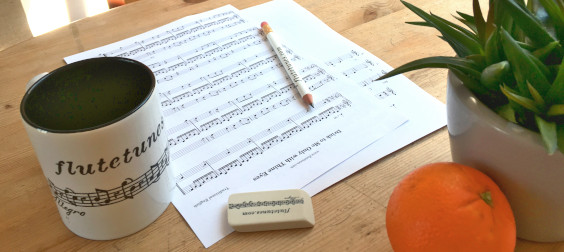 To celebrate this very special occasion, we have designed a new high-resolution version of our logo, which we've made available on custom-printed T-shirts, hoodies, mugs, pencils, and much more! Our merchandise is available right now via Spreadshirt and Zazzle. We have tested both platforms and concluded that they both have unique advantages: Zazzle carries a much larger selection of products (including pencils, erasers, rulers, stickers, etc.), while Spreadshirt specializes in apparel. Both sites provide high-quality products, and we are very happy with the samples that we've received. The logo is available in white or black, and with or without the "Ten Years of Free Flute Music" inscription. Make sure you look carefully at the photos before you order. By the way, if you are feeling creative, you also have the option to customize the designs!
Has flutetunes.com helped you in your journey as a musician, as a student, as a teacher? We would love to hear your story! Please send an email at tenyears@flutetunes.com. Feel free to attach photos if you'd like to! The most inspiring stories received by April 14 will be published on the website, and rewarded with some of the new merchandise (we are still working out the details; some geographic restrictions may apply).
Once again, we would like to say a big thank you to all our fans who keep following us and encouraging us. Your continued support is what keeps us going!